He had hid first pinewood derby
Well, if you don't count when our ward in TN had a derby for all the kids...& grown ups too.
The car was U-G-L-Y and was made 1 hour prior to weigh in with a box cutter and spray paint.
Who would have guessed that it would be a winning car?!
People dubbed it the "green latrine". They were just jealous!
Our 3 year old Tre-tre took 2nd with that pinewood car.
here she is...she is a beaut, no?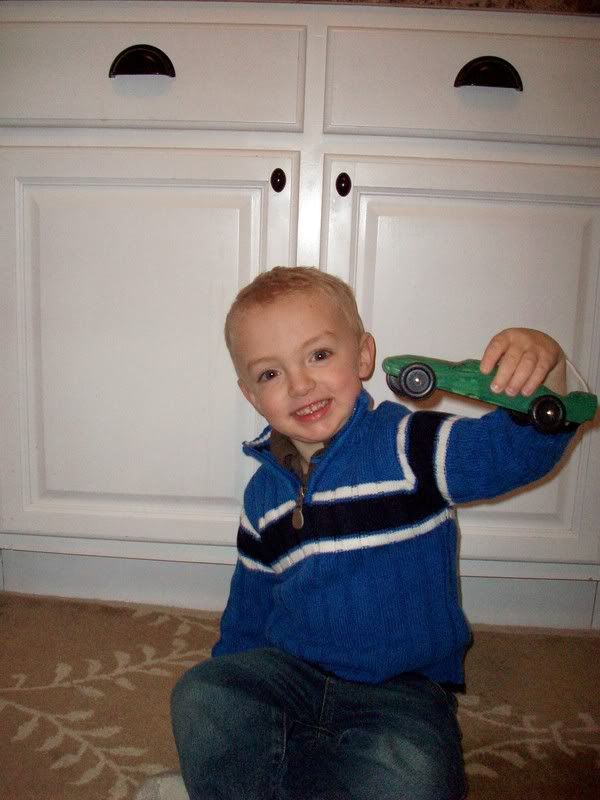 Id like to say we gave ourselves ample time to prepare this go around, but no.
the night before, T & Rod broke out their tools and paint & got to work.
they did a lot of work that night, but did not finish.
Rod was hopeful that he would have time before the race to do the wheels and weights.
so off to bed we all went.
The day was busy busy busy. I dare say it was even in the top 5 mosy stresful days of motherhood to this point. & then at 4:00 I get a voicemail from Rod saying he wont be home in time for the derby.
Now, I have a handflul of abilities....
but pinewood car building is not one of them.
I looked at T's wheel-less, unweighted car & about cried.
Called my mom & told her if they lived here this would not be an issue because Dad could help & take T.
Obviously that was not solving my issues,
but moms always make things better.
I called up my sweet friend, Kacee and asked if her hubs would be willing to help me out!
& he did! thank goodness! such a big relief!
So while the car was being finished I was free to get all 5 dressed, brush my hair for the first time that day, feed them a quick & void of nutrition dinner & race to the race!
We made it & I was able to breath a sigh of relief that T had made it & that his car had wheels.
A few minutes after we arrived so did Rod.
Tre was super excited to have his dad there after all.
We watched T's BYU car dominate. The kids ate at the nacho bar. presley hugged and latched onto any walking thing with a flower in its hair, & also spilled like 8 cups of water. the gym floor got agood cleaning by presley girl. the little boys participated in matchbox car races. Cooper who had a drs appointment that morning was all drugged up, and miserable.
t took 4th...but their was a glitch in how the cars were put on the tracks and recorded on one round...so really he was 3rd, but he is a good sport & did not throw a fit. He was just loving the fun night.
By bedtime we were all exhausted!
I am thinking we should build next years car now so we wont have another crazy pre race day.